At MECSPE, Recodi presents state-of-the-art solutions for industrial flooring
VENI, VIDI …Recodi! In Hall 5, a full 19,500 m2 are given over to Recodi!
01 marzo 2017
WANT TO KNOW HOW WE WORK?
From 23 to 25 March, head for MECSPE in Parma and visit Hall 5: you'll be walking on a Recodi floor. This years, the leading trade fair for manufacturing – the place where production technologies and production chains meet – affords the best opportunity to get up-close and personal with a wonderful Recodi floor.
The solution used is a traditional, 15 cm-thick industrial floor, laid using the LASER SCREED vibrating machine. This high-tech unit makes it possible to lay more than 1,000 m2 per day, reducing the processing times and the presence of joints (and thus of future maintenance operations). The concrete used has an S3-class consistency, which guarantees greater durability and resistance, thanks to the lower water and additive content. The release of the micro-particles of air – due to the vibrocompacting of the concrete caused by the Laser Screed – renders the floor less porous and, in the process, bolsters the properties of durability and resistance. Moreover, the laser control of 300 pulses per minute enables the levelness to be monitored throughout the laying process.
For more information, visit our stand – Hall 5 Stand E42 ­– and we will be delighted to answer any questions you may have.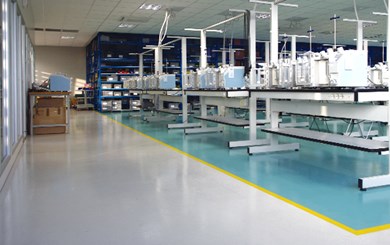 At MECSPE, Recodi will be networking with entrepreneurs and decision makers to showcase its new industrial-flooring solutions for manufacturing plants.
By leveraging its 50 years of expertise and its constant sensitivity towards the latest research and technological innovation, Recodi's resistant, durable and hygienic concrete and resin floors have been specifically designed to meet a range of industrial requirements, achieving exceptionally high levels of satisfaction amongst clients in the pharmaceutical, food-processing, mechanical engineering and chemical industries, and in all areas used for logistics.
Recodi designs and produces floors that have what it takes to resolve very effectively all manner of issues relating to:
manufacturing areas: resistance to mechanical abrasion, impermeability to oil being released by machinery, non-skid finishes
warehouses and traffic aisles: resistance to high levels of goods-handling traffic
quality-control rooms: resin-coated floors are easy to clean and help efforts to create an uncontaminated environment
entrances, cafeterias, changing rooms: resin coatings combine easy cleaning with an attractive appearance that enhances the perceptions of the environment.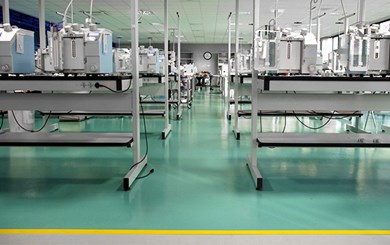 Recodi also offers dissipative and anti-static solutions, which are essential for the safety of workers and machinery in environments where there is an accumulation of static charge on the floor.
In addition to the flooring, on request Recodi can also design floor markings that make it possible to enhance the appearance and organization of the working areas: from pedestrian crossings, to direction indicators, all the way to narrow aisles, with Recodi there are no "traffic" problems.
Its professionalism and expertise make Recodi the ideal partner for effective, durable flooring solutions using cutting-edge concrete and resins, designed to meet the specific objectives of the company in question.